Post by hammy3601 on Jan 27, 2018 18:16:28 GMT
So like most I've been browsing for a little while and doing my research since seeing the new GType which has absolutely won me over and I have to build one. I have built cars and kits in the past, including taking on someones unfinished Exocet but it never went anywhere due to timing and unfortunate personal things at the time. I had no intention of doing another kit and then I saw the GType!!! WOW! Amazing work by MEV/Stuart, simply AWESOME!
I already have a slightly modified well sorted MX5 that I've had a while now (too good to break you'll say) and so it was a no brainer to use what I know to be a great car already for this project. My garage/workshop is already well equipped and I have a very good selection of tools.
Below is my car..... The Missus is not best pleased I'm stripping it down!
I will be ordering my kit next week and hope to get up to visit the guys at the factory soon.
Whilst searching for different polybush kits online I came up with a complete set of wishbones fitted with Powerflex bushes for £200 which is a steal and includes rear hubs and driveshafts. A big bonus is all the bolts come with so if I do break or cut any on my dismantling then Im sorted. Also Im sure you all know that individually wishbones sell for very good money so essentially the purchase will be free and I should be in profit when I sell the ones that come off my car.
They will be blasted and then POR 15, I prefer paint to powder coat on suspension pieces as when powder coat chips and water gets under its hard to repair, paint obviously is easy! :-)
I have just started advertising parts for sale and am stripping as they sell for the moment. One thing I cant believe is that after all the years of car projects I have only just bought an impact driver!!! My new best friend/favourite tool right after the grinder.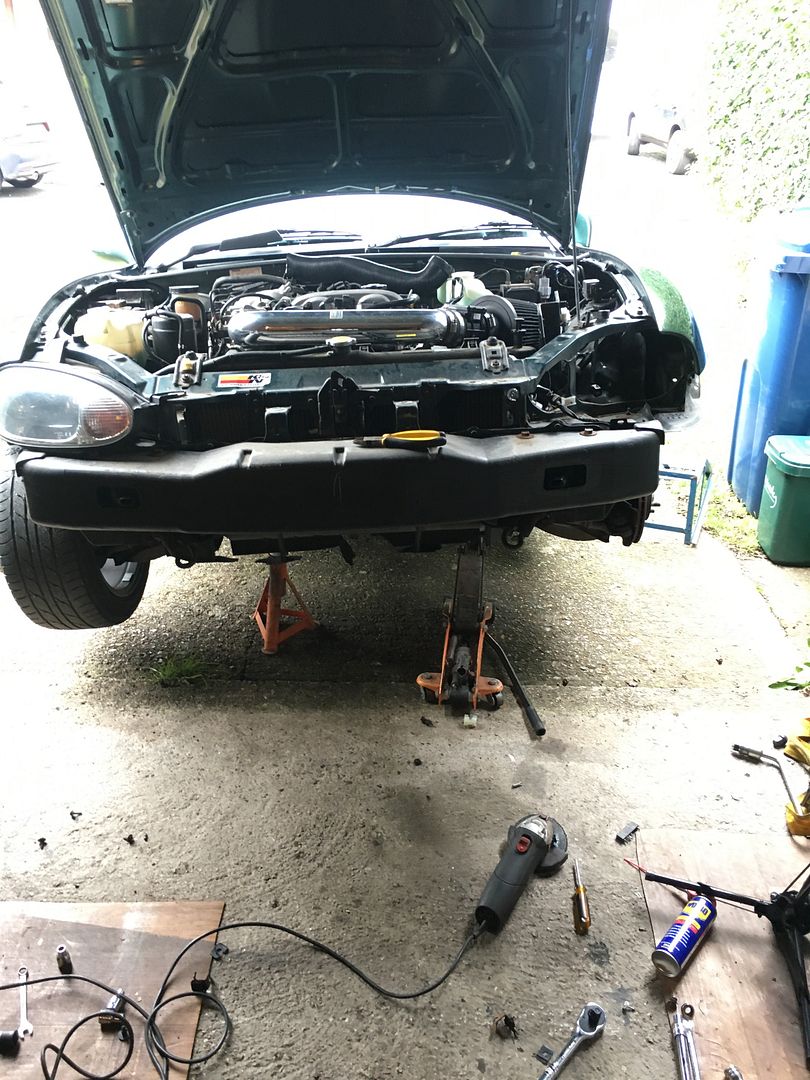 Parts are selling fast which is great news....
(PS. I took this just before I put the other axle stand underneath, Im not silly)
So... my heatlamp at work on some other wishbones I was working on prior to buying that complete set.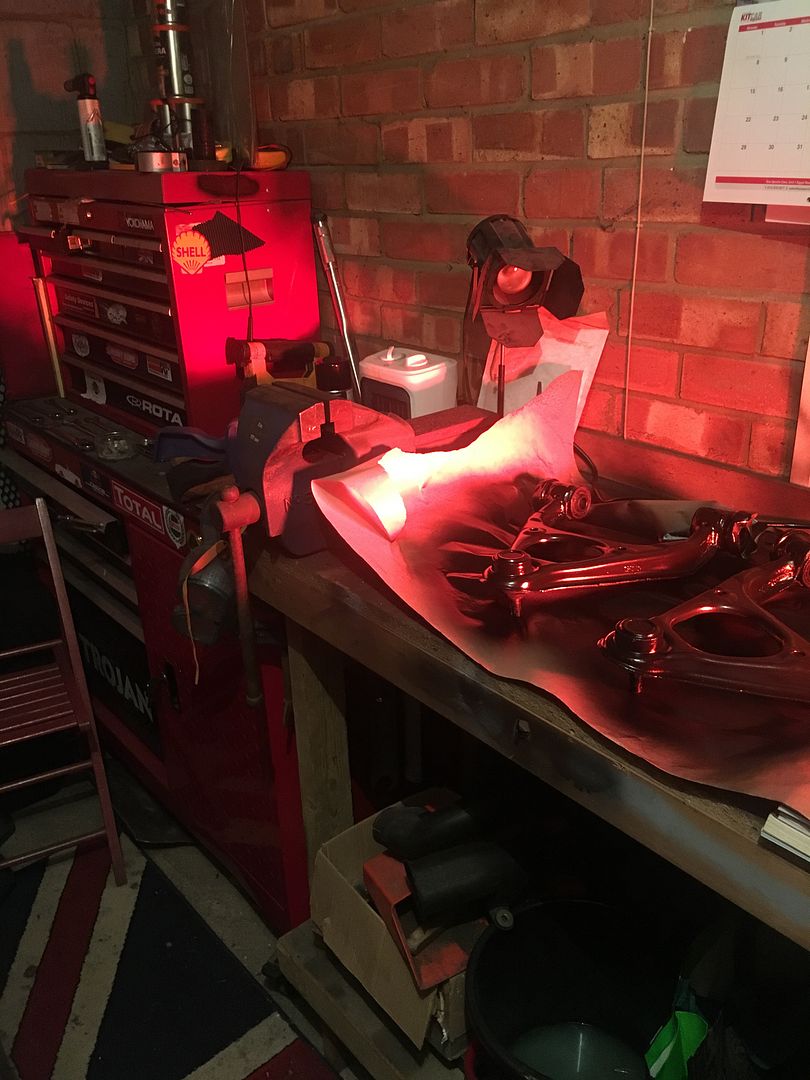 And lastly I got myself a Dymo labeller for the engine loom. I wont be using the complete donor loom as I have an ECUmasters ECU going in and will have a simplified loom for the other electrics.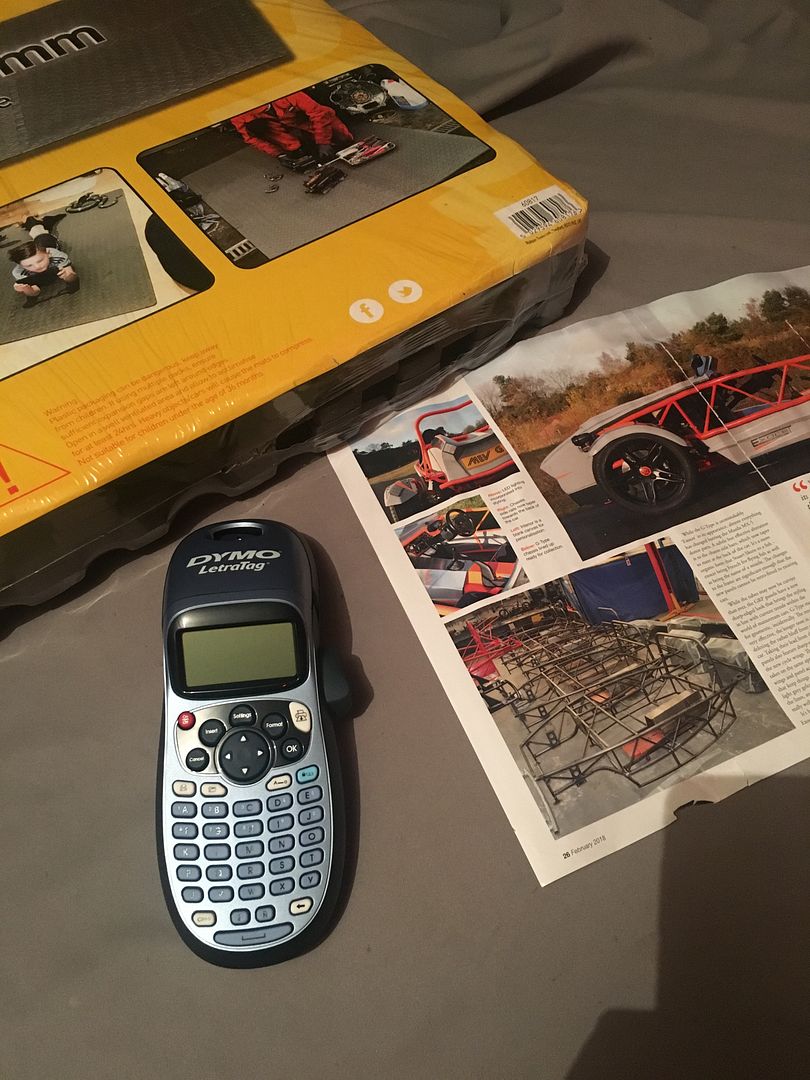 That's it for now guys. I look forward to this build and drawing on your experiences and hopefully with meeting some of you soon.