Post by rusperala on Jan 14, 2015 23:41:31 GMT
Hi All,
My name's Al, and a couple of years ago I decided that as soon as I could I was going to build an Exocet to use as my every day car... which lasted right up until around I first saw the Mevster!
I must admit that I've been meaning to start a build thread for a little while, but it seems like time in the garage always gets in the way. The threads which others have put here have really helped with the build up to now, so thank you guys - I wouldn't be anywhere near as far as I am if it werent for them.
Anyway, I bought a lovely x reg 1.6 red isola mx5 (which I really miss every time I drive my yaris!) early in 2014 and drove it until around April when the long strip down process started in a couple of lock-ups 4 miles away in Newbury.
Since then the old body came off and got towed away, the roller skate was completely stripped down, cleaned up, and Hammerite-ed (I'm considering asking for sponsorship considering how much of the car, and my lungs, are being held together by the stuff!). Then, because I got over enthusiastic buying parts I replaced all of the engine seals/gaskets, the clutch, and the bushes. I'm hoping that once I get out in the car it will have beent worth having to eat baked beans for a month!
Towards the end of November my Dad and I hired a van and we made the exciting trip up to Mansfield to pick up the kit. I'll attach some pics below, but I decided to go with a powdercoated chassis, a red body, and black seats. I also picked up a roof, but work on that will probably wait until after the IVA.
Since picking up the kit, work really seems to have sped up. I had 3 weeks off over christmas, about half of which I was able to spend in Newbury working on the car, The roller skate was re-assembled, then the floor and fuel/brake lines fitted to the chassis before putting the two together. Now the big focus is trying to get the engine to run again. And of course to remember to update this thread!
I'm going to (try to) attach some pictures of highlights of the process so far, if there's anything anyone wants to see in more detail let me know and I'll dig out a picture.
Annoyingly I don't have any pictures on this computer of the car from before I started taking it apart, but for the most part the strip down went well. Getting the body off though was no easy task, in the end it took 7 of us to lift it (I was hoping for 6 and a camera man, but he was quickly promoted to lifting)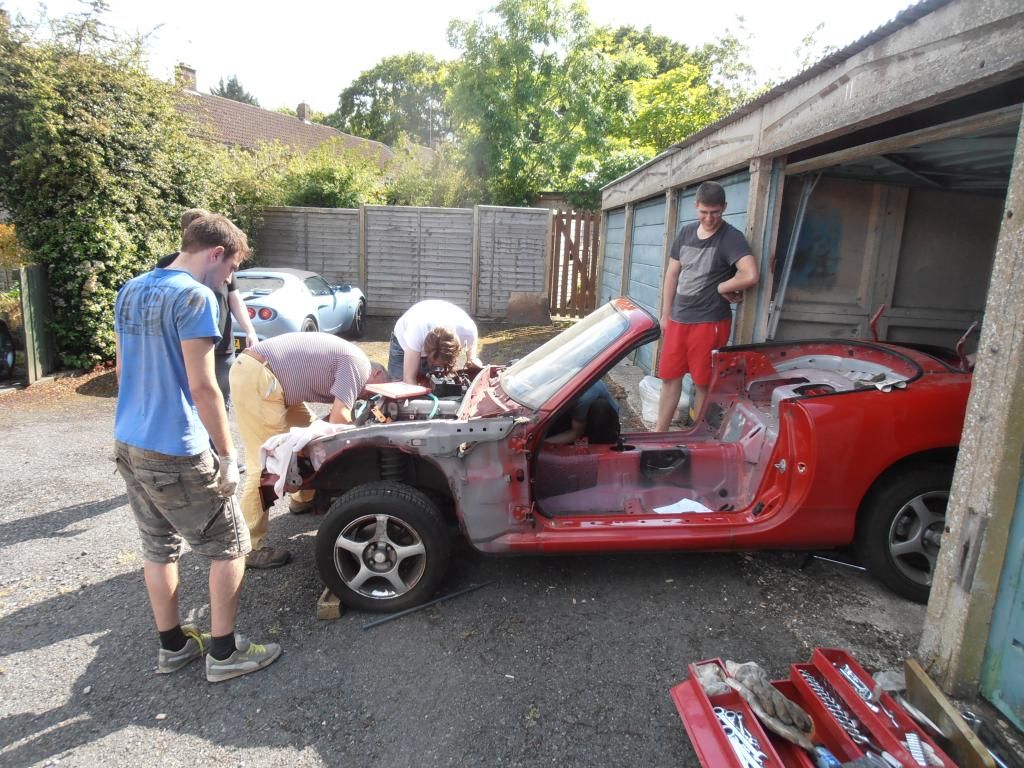 Eventually though we got there. Since I was planning to keep on taking stuff apart I wasn't too worried about the suspension sagging, although it did make it harder to push back up the hill.
The idea had always been to clean and paint everything (wheels included), but after one wishbone I quickly realised that doing it all by hand with a wire brush would take forever. It was at this point that the rubbish yaris took up van duty as over the next few months I spent weekends driving bits back to my parent's where I made good use of the garage and magic power tools!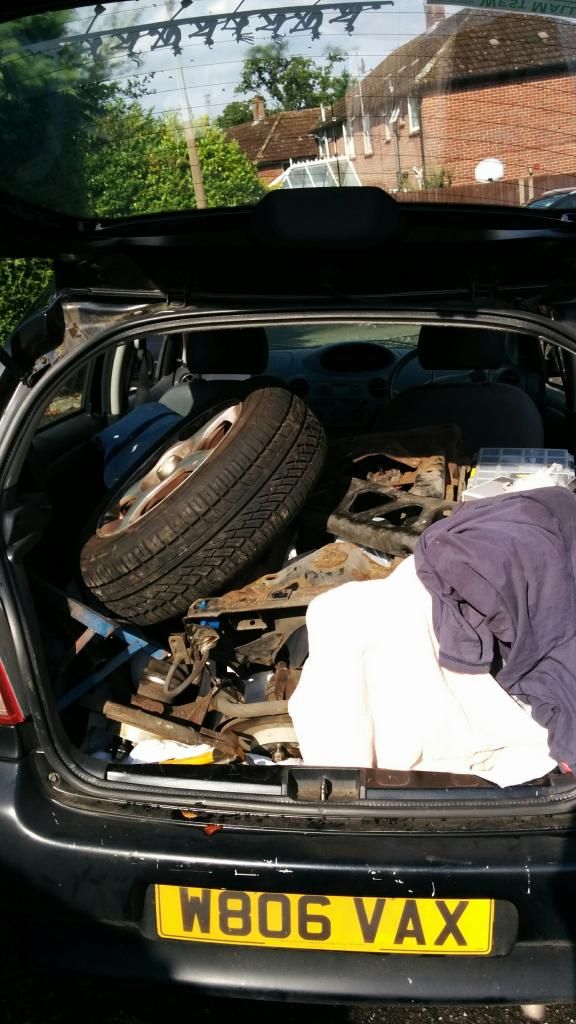 (at this point I should probably apologise to Simon for painting his garage floor black....)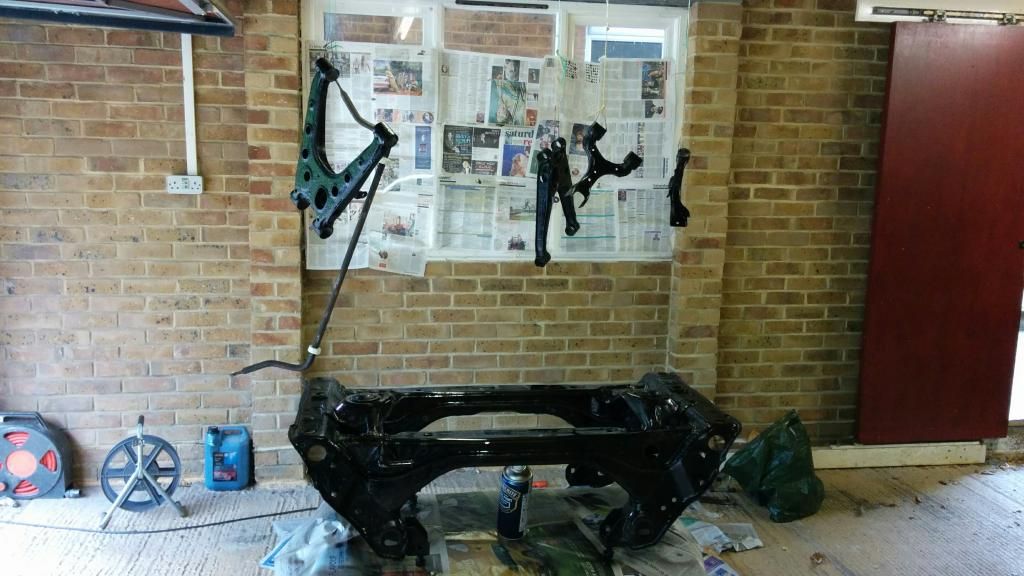 Lesson finally learned though!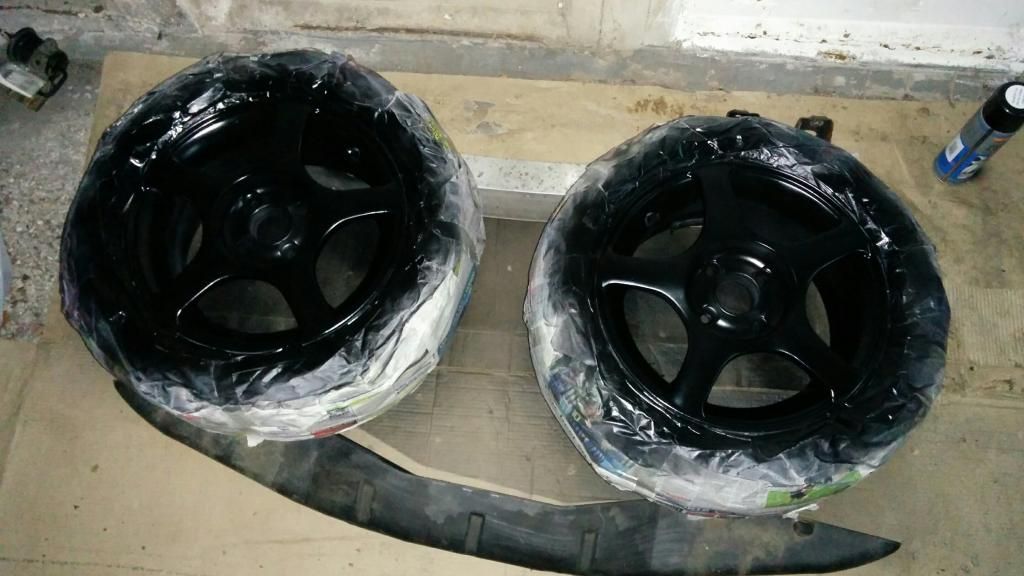 Eventually it was time for a trip up North (don't worry, chassis was underneath)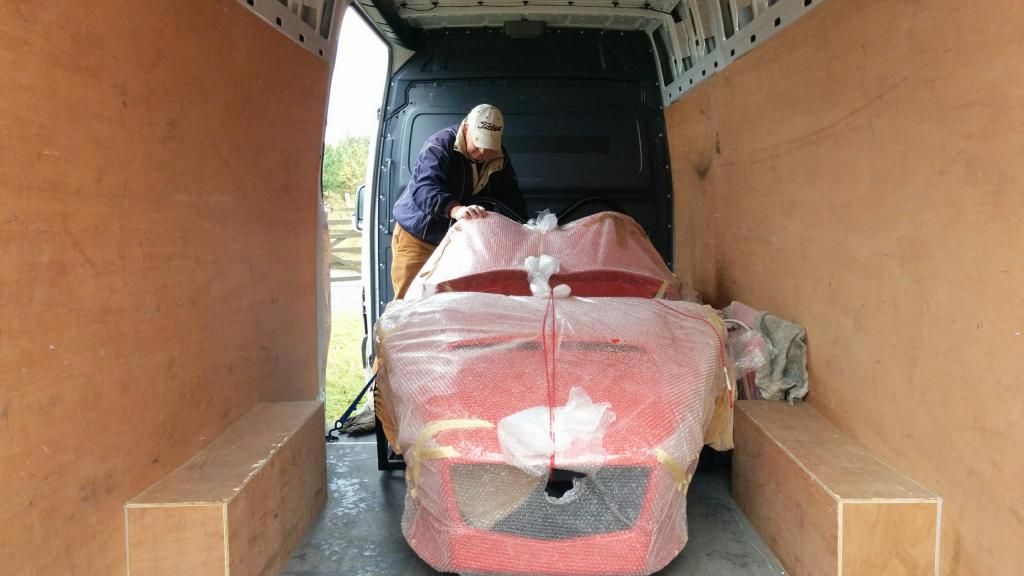 Storage garage starting to look a little on the small side...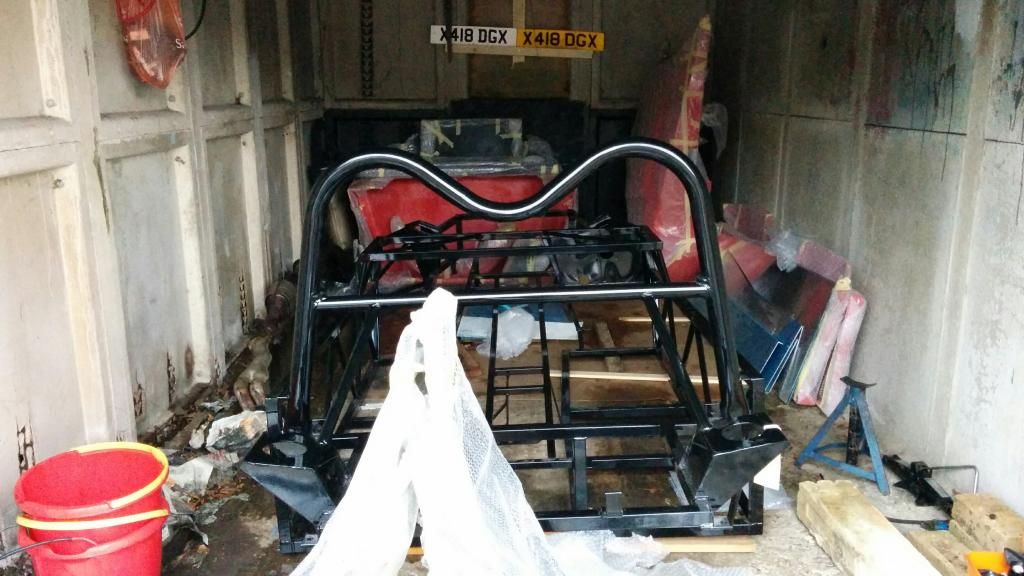 I had thought about buying an engine crane, but in the end it was easier to just build the car around the engine!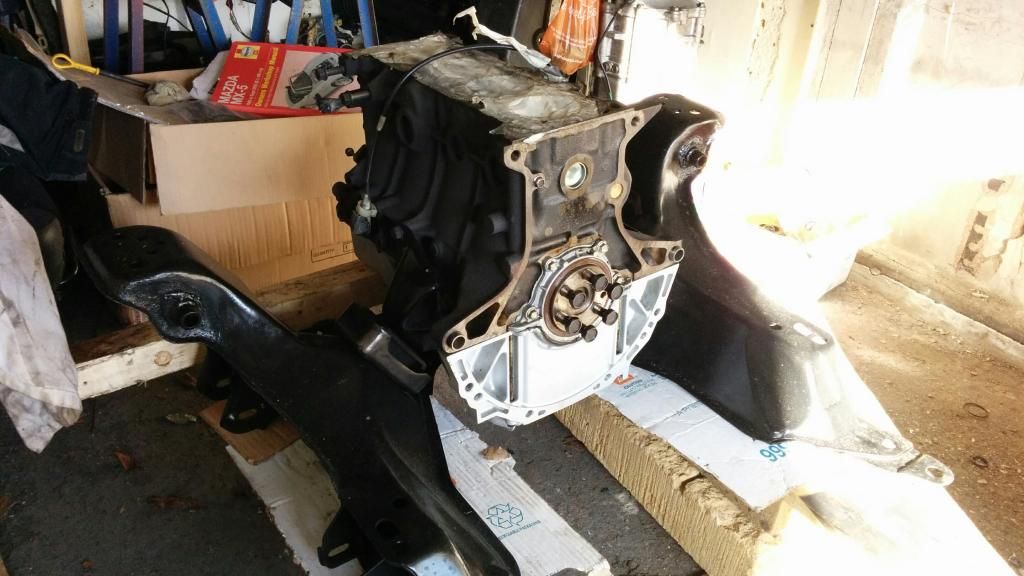 It took a while, but with Simon's help the front met the back eventually. (Wish I'd taken the tape off the wheels before this)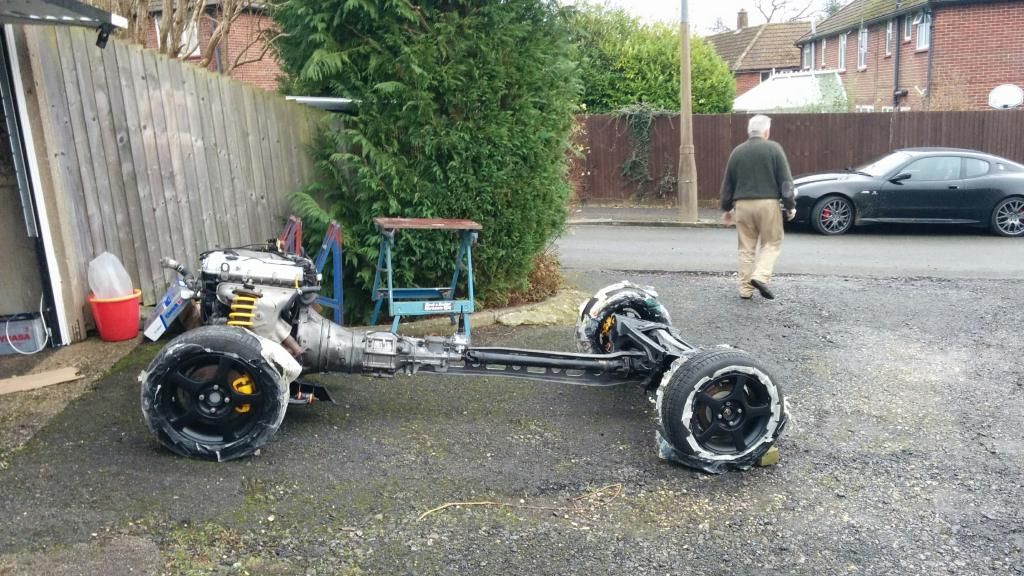 At the same time thought it might be fun to fix the windscreen to the frame. Top tip - PU adhesive smells worth than Hammerite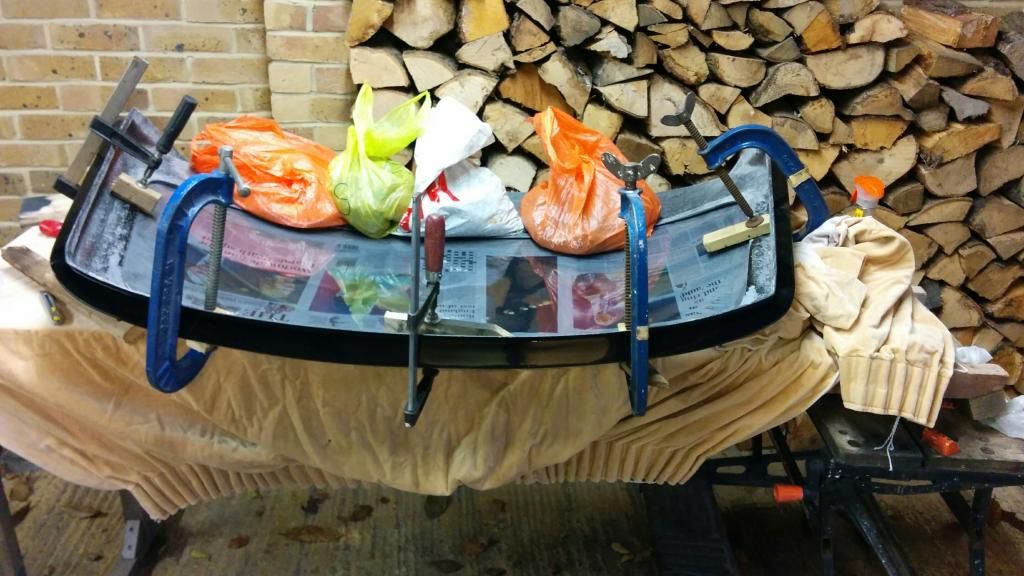 Into Christmas by this point, so back at the parent's some brackets were made ready for a day trip to Newbury to fit the lines to the chassis and start on the floor.
I had meant to get a Lazy Tong riveter, I really had.. 3 rivets in and we were really wishing I had!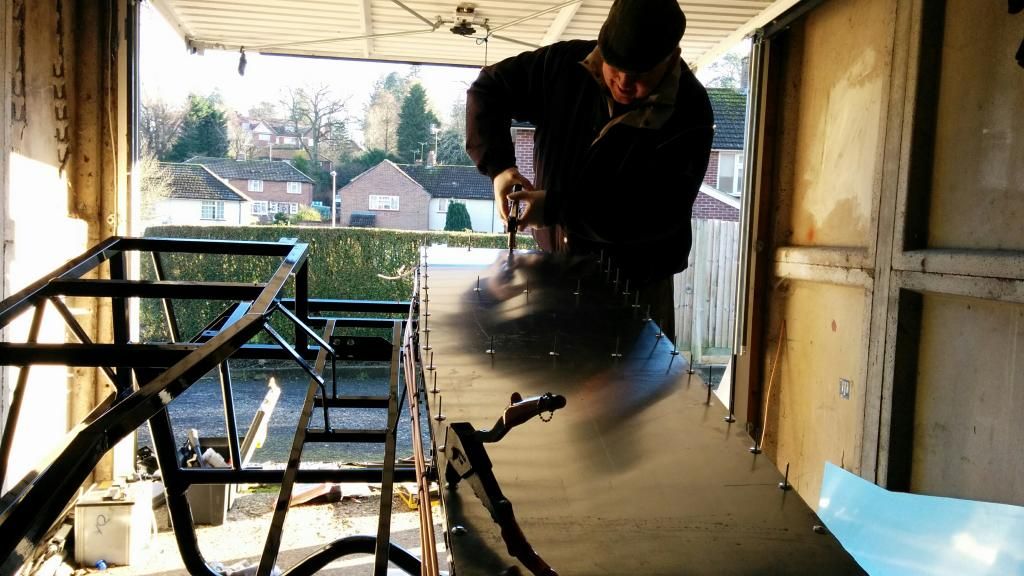 After that one floor panel our arms couldn't handle any more. A week later we were back though and got the other panel on before (finally) getting the chassis onto the roller skate. I won't lie, it took about 7hrs, but we got there in the end. (Can't believe I still didn't have the tape off the wheels!)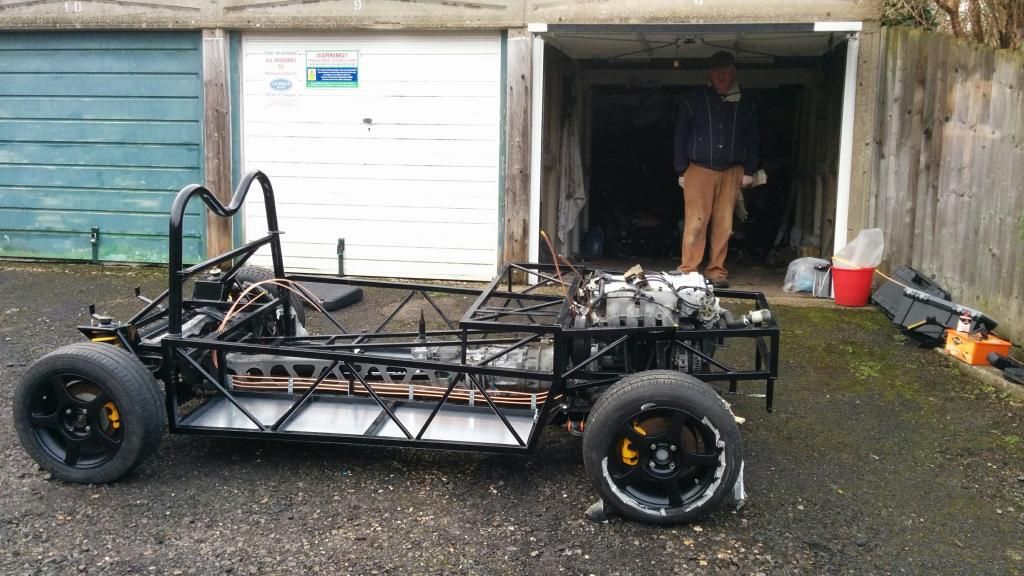 That was the last major achievement. Since then I've started plumbing in the brake lines at the back, and have fitted the brake servo and pedals.
It's worth mentioning that I found that two tabs on the back of the chassis didn't line up with anything (they're the ones which look like they should fit under the rear subframe. Having looked into this on this forum it looks like that's because my donor was a 1.6... Still thinking about it, but I may fab some steel brackets to link the two for fun.
It's also worth mentioning that in the end I had to take off the front shocks to get the chassis on (the lovely yellow Hammerite paint job was getting ruined trying to make it fit!).
Sorry for such a long post, I'll try to update regularly from here on! Front shocks have been repainted, next job is to get them back on and then, in the medium term, to get the engine running.
Cheers,
Al