Post by Stuart Mills on Mar 19, 2016 12:56:00 GMT
Replicar, how it all started.
I need to go way back to look at my original inspiration, to a kid in fact of only 5 or 6. I loved the stories of those gallant drivers in the 50's, driving hard and long, risking life and limb, driving performance cars in extremely competitive environments. I was hooked. Looking back my favorite cars were the old Ferrari 250TR and of course the DBR1. Stirling Moss became my hero. The story of him supporting his team mates in Le Mans by driving over hard knowing that the Ferrari's would attempt to keep up and suffer mechanical failures was delightful. He let his mates win but actualy without my hero pushing hard early on that may not have been the case. A picture of that number 5 car took pride of place on my bedroom wall.
It was many years later that I started to look at what inspired me to become involved in car development and the obvious port of call was childhood memories. Dreams of the 1959 Aston Martin DBR1 being my most cherished.
Push the clocks forward to 2013 and I was looking for ideas for a new kit car, I had moved forward in huge leaps many times in kit car design and felt an alternative direction coming on. It didn't take long to look back to 1963 and remember that 59 DBR1 gracing my bedroom. A plan was hatched. Fortunately I was a member of the Aston Martin owners club which gave me access to the "Barn", a place full of memorabilia to copy and photo but more over they had one of the 5 DBR1's ever made for me to drool over. I did my drooling with a tape measure and card board and scissors!
Back at base I started forming the basic structure of a pattern with timber, then adding flex ply and jelutong wood to create the basic shape. It wasn't long until I realised I needed another look at the original and finished up visiting the Barn at least 3 times. They must have been suspicious.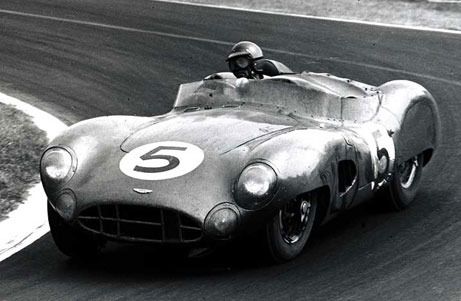 This shape was tough to recreate, full of compound curves and awkward detail but after many months of toiling it was looking brilliant, not a 100% copy but a closely inspired recreation. Now what? Well normally I would start a design by deciding on a mechanical package and layout and then style a body to fit but this time it had to follow the reverse procedure. I had a good look around for donors but nothing matched the surprisingly short wheelbase of the DBR1. I didn't want this to turn into a mammoth task for future builders having to modify prop shafts and exhausts and also require a myriad of specialist components. My mind was made up, single donor, easy build or not to be built at all. I had reached a brick wall and sat staring into my workshop and then it dawned on me. The bloody answer was staring me in the face. I quickly grabbed a tape and to my delight discovered that the Exocet had the same wheel base as the DBR1 ! Brilliant, interestingly the track width was perfect too as the Exocet was fitted with wheel spacers causing the width to match the DBR1's. I scrambled around for days on end in search of wire wheels, and then stumbled across a set that was a direct bolt on to 4x100 PCD hubs, now that happened to be the same as the MX5, as a bonus I also discovered that the track width with these chrome shiny bolt on's was a perfect DBR1 match without wheel spacers. Readily available and not too expensive either. Result.
A Eureka moment actually as I had spent literally hundreds of hours on the pattern and didn't relish the thought of informing my business partner Julie that it was not going to happen. From the outset I was determined to make this unlike any other Cobra approach where builders tend to spend 30k. My dream was being able to supply kits that were built for little more than an Exocet, which of course is the cheapest and easiest car to build in the world.
Next I enlisted the help of my laminator and over a few months of work inbetween making Exocet panels and pulling in a few late nights and weekends my dream became a reality. Before us we had a pattern that was convincingly a DBR1 but fine tuned to take the MX5 running gear. Mould work was next and Alan who is a very experienced GRP laminator did a sterling job of making a first class production mould set.
The car was welcomed by the public and the kit car media, they all got it. Modern mechanicals, cheap to buy, bullet proof reliability, thousands always for sale and a fantastic 50's race car look. They look just great in every colour too. The light just seems to reflect well on it's curvaceousness! (made up word)
Instantly it become noted that it was almost impossible to fail IVA with this car, no contactable edges, fixed light positions, and MX5 brake balance, emissions, decibels, speedo calibration, lighting controls, self centering steering, etc. etc.
We were asked by many interested potential customers for doors and a boot during early marketing at large classic car shows. Once again they all understood and embraced what we had on offer but doors need to be be added. Ouch, chopping that expensive mould was a tough call. Well worth it though as now we attract a larger audience, fine tuned to suit public demand, you can even get a small amount of luggage on board now in the boot, not bad for a race car.
My favorite moment at shows is having to explain to an often bemused interested party that the price is correct. It's only £4995. Now bearing in mind we often show at classic shows it is not entirely surprising that we sell so many, compared with a rusty old classic requiring welding to rotten bits we offer fantastic value and a much more pleasant experience. Residual values are much higher than build cost too so it's a win win situation. We managed to impress all the right people.
It's been a true delight enabling people to share my dream and become engrossed in these wonderful projects. I love seeing build stories on here, all different, all very creative, the ideas just keep flooding in, that's the joy of kit cars, put your own mark on it, it's yours to do what you like with. No 2 will ever be built the same, marvelous. My I take this opportunity of thanking all those Replicar owners out there, I hope your dreams continue to become real.
I am very proud of Replicar, the name it's self is registered to Mills Extreme Vehicles Ltd but the design must be credited to the colourful history of British motorsport and my role models who were involved from the early days. I got to meet my hero a few times too. He was very complimentary. When Sir Stirling asked "what motor do you run", I replied "Mazda" and he said, "oh lovely, they rev like the clappers don't they, oh and very reliable too you know"