Post by Mills Extreme Vehicles on Mar 13, 2016 10:19:06 GMT
ROCKET, the story so far...
It was back in 2001 when I became inspired to develop an exoskeleton car, I have Harley Davidson to thank for their pre-launch promotional material describing their forthcoming V-Rod as "having the engineering on show in a minimalist design concept. The chassis being a prominent feature of style, a statement, not something painted black and hidden beneath the tank".
I was the first to import a V-Rod to the UK and I still love it to this day, which is lucky as all I had seen prior to parting with money was a picture.
Early in 2007 we launched a prototype exoskeleton car, by the end of 2009 we had supplied around 150 Rocket kits.
Below is a picture of our first prototype.
The name Rocket came about as I had finished a few laps on our test track in a prototype and shouted "it goes like a Rocket".
Strangely despite us using the name Rocket since 2006 the Light Car Company managed to slip in a registration for the trade mark Rocket in 2008 but are powerless to stop us using it due to our historical use.
We carried out one off modifications to some kits including the introduction of alternative power plants such as Honda, ST170's, Volvo 5 pot and even a C-Max diesel which had so much torque it started to tear the rear wishbone mounts off!
Another one off was for Smarts-R-Us Ltd in Nottingham and was named Zonta, featuring a Smart car engine, they offered it as a kit but it did not sell. Our desire to develop other kits meant we had to shed some of our work load and so we sold a licence to Smarts-R-Us Ltd to manufacture the Rocket, they ran into financial difficulties, ceased trading and then formed Road Track Race Ltd (RTR Ltd), we agreed to transfer the Rocket manufacturing licence, RTR Ltd ceased trading early 2015.
The rights to the Rocket were relinquished upon the closure of RTR Ltd and the moulds and jigs were returned to MEV Ltd. We were very busy with Replicar and Exocet sales so we offered the project for sale internationally. We sold the "Rocket" licence to a large Czech firm.
A new era began as the Czech deal included a commission for us to design a new improved version suitable for more power, to be built in Europe. The new chassis is stiffer and features stronger components in critical areas to allow for increased engine torque. The suspension geometry and steering have been improved and although the car is similar in appearance to the MKI it is a clean sheet design. (see Rocket IBG vid).
The chassis design builds on the strength of the original, the slow curved tubes are now more prominent and run tip to toe. A much shorter steering rack is used with much longer wishbones giving it a much cleaner look. A more aggressive front end was developed resulting in less GRP which was always my aim. The original 3 bars on the nose (style based on an ice hockey net minders helmet) have been replaced and an alternative "mean" graces the front now.
We also developed a V6 version using the power plant from a Ford Mondeo ST220, an awesome soundtrack !
Rocket celebrated it's tenth anniversary in 2017, it has been a wonderful roller coaster ride, I have many very fond memories of my experiences with the cars and the people that own them, build them and manufacture them, long may it continue.
Below is a sketch of our original concept.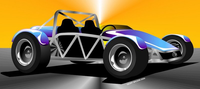 As far as kit cars go we found Exocet to be a far superior car, the balance is outstanding, with a driver on board there is 50-50 front to rear weight distribution. A great handling car. Exocet is also considerably cheaper to build than Rocket due to the high number of donor components that are used from an MX5, the build of Exocet if much quicker and easier than Rocket too. Unfortunately the use of a Focus donor for Rocket means that suspension uprights, wishbones, shock absorbers, steering rack, seats, fuel tank, pedal assembly, master cylinders, calipers, exhaust, wiring harness, etc. etc. cannot be used.
Exocet uses all of the above from a single donor!
To celebrate the 1000th Exocet kit sale in the UK a new model called Exocet G type will be launched in 2018. MEV will also offer a new version of Exocet based on the later NC or MKIII MX5 with it's 2.0 litre 160 bhp alloy engine and alloy wishbones.
The body of G-type more aggressive than the one pictured below, it is a more contemporary design. G type stands for Geometric which is a hint at the style theme. The 2 Exocet models will be sold alongside each other, just £2995 for a comprehensive kit that just needs an MX5 and a few bits and bobs adding to the mix.